ATH-M40x Review
While everyone in the headphone world is going crazy over the new Audio-Technica M50x Headphones, and with good reason, I wanted to take some time to talk about the less popular little brother of the ATH-M50x, the ATH-M40x. The m40x offers many of the same amazing features and sound signature as the M50x, but for way less.
Features
The ATH-M40x features 40mm drivers, 2 removable cables, and a 90° range of motion. With a frequency response of 15 – 24,000 Hz the ATH-M40x offer a wide sound spectrum without having an exaggerated low end. With a professional-grade ear-pad and headband material, that M40x's offer incredible comfort. Fully collapsible and featuring a leather carrying pouch these headphones are build for portability as well as durability.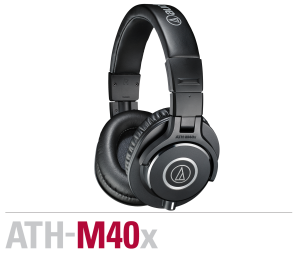 Technical Data
Driver 40 mm
Magnet Neodymium
Voice Coil CCAW (Copper-clad aluminum wire)
Frequency Response 15 – 24,000 Hz
Maximum Input Power 1,600 mW at 1 kHz
Sensitivity 98 dB
Impedance 35 ohms
Weight 240 g (8.5 oz) without cable and connector
Sound
While many will say the ATH-M50X is the most balanced headphone they have ever tried, it's only because they haven't tried the M40x. With a notable boost to the bass in the ATH-m50X, they are just not as well suited for mixing or tracking as the ATH-40x, however it's important to note that the M50X may be better for bass lovers. Everything about these headphones sounds awesome to me. Lately headphones have all together been missing the mids, where as the M-Series line is accurate across all frequency ranges.
Comfort
The ATH-M40X and indeed the WHOLE line of the new batch of  M-Series headphones are incredibly comfortable. Perfectly suited for long studio sessions, or listening on the go, the Audio-Technica M-Series headphones is the first studio headphone that moves with you!
Value
$99.99…are you kidding? Nope! The ATH-M40x have taken the throne away from my beloved Sony v6 and are now my #1 pick for a studio headphone under $100! I would absolutely recommend these headphones not only for their quality but for their value.  Thanks for checking out our ATH-M40x Review!