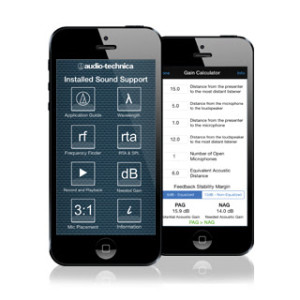 Audio-Technica is  excited to announce the release of their new Installed Sound Support App for iOS Devices. The easy-to-use mobile app provides a number of essential tools for system integrators, sound contractors, FOH engineers, musicans and other audio professionals in the field. Compatible with Apple iOS devices such as iPads and iPhones running iOS 5.1 or higher, the app is free and can be downloaded by visiting the  Apple App Store on an iOS device. 
In-app features include:
• Application guide for Audio-Technica microphones
• Wavelength Calculator
• Needed Gain Calculator
• 3:1 Microphone Placement Calculator
• RTA & SPL Meter
• Frequency Finder for Audio-Technica wireless products
• Record and Playback functions for sound system testing
The app is free, so download now and enjoy the convenience of all of the features right at your fingertips!